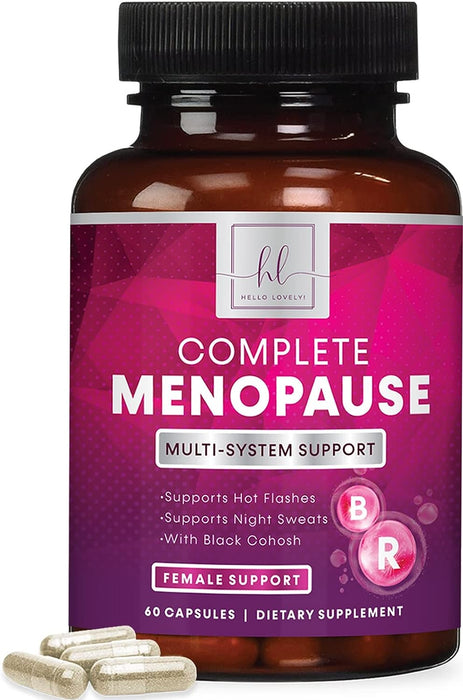 Menopause Supplements Extra Strength Hot Flash Support 1256 mg - Menopause Support for Women - Made in USA - Natural Black Cohosh, Dong Quai and Soy Isoflavones
Expertly Formulated:
Our formula includes Black Cohosh and Red Clover for natural support. Designed with Dong Quai to help support abdominal cramps. Provides sleep and energy support through herbs that have been show to help support occasional sleeplessness.

Ingredients:
Soy Isoflavones 30 mg
Black Cohosh (2.5% extract) (root) 160 mg
Dong Quai (1% extract) (root) 150 mg
Licorice (1% extract) (root) 150 mg
Red Clover (1% extract) (aerial parts) 400 mg
Sage (2.5% extract) (leaf) 200 mg
Chasteberry (0.5% extract) (fruit) 50 mg
Blessed Thistle (herb powder) 50 mg
Red Raspberry Powder (fruit) 50 mg
Wild Yam (16% extract) (root) 15 mg
Trans-Resveratrol (from Polygonum cuspidatum extract) (root) 1 mg
Other Ingredients: Microcrystalline cellulose, gelatin (bovine), vegetable magnesium stearate, and silicon dioxide.
Allergen Warning: Contains Soy (Soy Isoflavones)

Why Choose Hello Lovely!

We only manufacture our Menopause Supplements with the highest quality ingredients available while following current good manufacturing practices. They are manufactured under the strictest quality standards and all ingredients are tested for purity and quality.
Complete Menopause Support: Hello Lovely Menopause Complex is a comprehensive supplement made of natural ingredients scientifically formulated to support women throughout every stage of menopause
Specialized Complex: This supplement contains many powerful natural compounds that can help with the various effects menopause has on the body
Sleep and Energy Support: Supports occasional sleeplessness caused by menopause and support your energy throughout the day
Feel Comfortable: Helps you feel comfortable and supports a positive mood every day
Trusted Formula: Hello Lovely Menopause Support is formulated and manufactured following strict cGMP guidelines and is third party certified for purity and quality