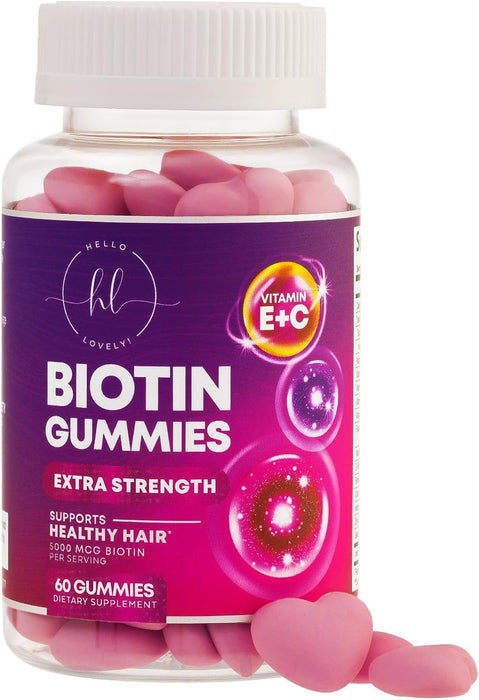 Hair Growth Vitamins Biotin 5000 mcg Supports Women's Thicker Hair, Premium Vegetarian, Non-GMO, Stronger Beautiful Skin & Nails, Lovely Hair Vitamin Supplement
About this item
Hair Gummy Vitamins: Hair Gummies provide nutrition to help support a foundation for longer, stronger, more beautiful looking hair; With these biotin gummies, you don't need to worry about swallowing capsules or dealing with negative side effects such as digestive upsets

Gummies Help Support Hair Growth with Biotin, Vitamin E and C

Tasty Blue Berry Flavor Supplement For Men and Women

For Longer, Stronger, Beautiful Looking Hair and Nails

Hair Growth Vitamins Gummies for Women: Angel bear beauty best biotin biotina blue cabello collagen complex faster gomitas grow growing gummy hello lovely nail nails nature natures products radiant skin sugar supplement supplements thicker vegetarian 10000mcg 5000mcg vitamin vitaminas womens
Hello Lovely! Hair Gummy Vitamins with Biotin
Hair Gummy Vitamins: Hair Gummies provide nutrition to help support a foundation for longer, stronger, more beautiful looking hair; With these biotin gummies, you don't need to worry about swallowing capsules or dealing with negative side effects such as digestive upsets<br><br>Gummies Help Support Hair Growth with Biotin, Vitamin E and C
Tasty Blue Berry Flavor Supplement For Men and Women
For Longer, Stronger, Beautiful Looking Hair and Nails
Why Choose Hello Lovely!:
Certified Trusted Quality: Our extra strength biotin gummies have been manufactured following strict cGMP guidelines and third party lab certified for purity and quality.
Formulated for Women and Men: Specially formulated for hair, skin and nail support in women and men.
Natural Formula: Our hair vitamin gummy supplements are vegetarian, dairy free, gluten free, soy free, wheat free, peanut free, shellfish free, and fish free.